Oratorio's First Sketches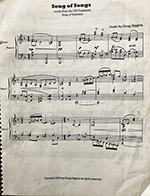 The living of a Christ-seeker as depicted in Song Of Songs. Such a living is expressed in the following stages of the seeker's experience: (1) Attracted by Christ's love, charmed by His name, and captivated by His person to pursue Him and be led into the church life. (2) Called to remain in the cross that she may be freed from her introspective self for the fulfilling of her Beloved's purpose concerning her in the divine life. (3) Called to live in ascension and even within the veil to experience the stronger cross that she may be one with God in her spirit even before rapture. (4) Conformed, ultimately, to be the wonderful Shulammite, who, as the duplication of Solomon, is the greatest and ultimate figure of the New Jerusalem as the counterpart of Christ.

Doug's Oratorio will include the Bible Text for Song of Songs as well as the unfolding of it along the lines of the above points on the Christ-seeker. His writing of the Oritorio started in 1997. The picture shows the first page of music.
Inspirations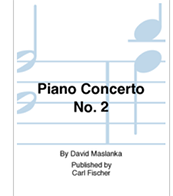 Doug met David Maslanka at the University of Montana. He was a speaker for the 2017 spring composer's workshop. Doug wasn't familiar with Dr. Maslanka's works so he went to itunes and bought Maslanka's Piano Concerto No. 2. He was blown away with Maslanka's composition and felt that Maslanka was the greatest composer of his age following the advancements made by Igor Stravinsky and his Rite of Spring. Maslanka's wonderful use of percussion, woodwinds and piano greatly influenced Doug's opening piece, the Overature to the Song of Songs which was written for a string quartet, woodwind quintet and standing base.

Igor Stravinsky's Rite of Spring written in 1913 was new age with his experiment with tonality, metre, rhythm, stress and dissonance. Stravinsky's ideas have influenced 20th century music with his many inovations.